MAKING RAINBOWS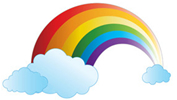 MIRROR RAINBOWS
WATER RAINBOWS
On a sunny day, get out a garden hose and show your child how to spray out the water so that it creates a rainbow in the spray.
To make rainbows, we need light and water.
Explain to your child that light contains many different colors; red, orange, yellow, green, blue and purple. (Yes, I know the official names of the last two colors are violet and indigo, but with preschoolers, I like to say with the common colors, blue and purple.)
When the light is filtered through water, the water breaks up and light rays and we can see the different colors.
PRISM RAINBOWS
BUBBLE RAINBOWS
Take your child outside on a sunny day and blow some bubbles.
See if she can find any rainbows in her bubbles.

HOW LIGHT REVEALS ITS MANY COLORS - so far we have seen that water and prisms can fracture light and enable it to show its many rainbow colors.
MILK RAINBOWS
Place some milk in a shallow dish.
Add drops of several different food colors in the milk.
Add a drop of liquid soap to the milk.
Watch what happens?
OIL & WATER RAINBOWS
Give your child a bowl of water.
Let him use eye droppers to drop (a drop each of red, blue and yellow food coloring) into the water.
Add two drops of cooking oil.
Have your child look for rainbows in their water.